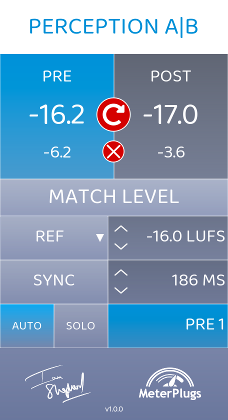 Perception AB plugin
VANCOUVER: April 23rd, 2021 - MeterPlugs today announced a major update to their award winning Perception AB plugin, rebuilt from the ground up with new functionality optimized for mixing. Defeat "loudness deception" with realtime, loudness-matched bypass of any signal chain, including external analog gear and reference tracks, with full latency compensation. Bypass your entire mix with a single click!
The idea that "louder is better" is everywhere, and the pressure to push our music to super-loud levels feels as intense now as it ever has. But loudness can be deceptive. A difference of as little as half a dB can fool us into thinking something sounds better, even when the audio is otherwise identical. And this "loudness deception" is so powerful it can swamp our ability to hear all the other more subtle changes we make when mixing and mastering our music.
Perception AB solves this problem by automatically compensating for differences in loudness, for any processing chain. Simply click "Match Level" and the Pre and Post levels are balanced and ready to preview in realtime, with full latency compensation, even for external analog hardware. "Ever since we released it people have been asking us to bring that same powerful perspective to mixing, as well as mastering. Perception AB does that," says Ian Kerr of MeterPlugs.
Mastering engineer Ian Shepherd, who developed Perception AB with MeterPlugs, explains that the new mixing-optimized features enable users to leverage loudness-matched bypass both for complex FX chains and groups of channels within a mix, and also when mastering with reference tracks or working with stems.
"The new version is zero-latency, faster and more flexible," says Shepherd. "It gives you immediate, realtime feedback on your processing choices, so you can mix and master with complete confidence, without being fooled by changes in loudness."
The plugin is available for purchase now, and has a regular price of $149. However, it is on sale now for 30% off. Existing Perception v1 users can upgrade for only $49. The plugin comes in VST, AU and AAX formats for both Windows and macOS. It can be purchased online from the MeterPlugs website, www.meterplugs.com/perception-ab, and is available for instant download.